---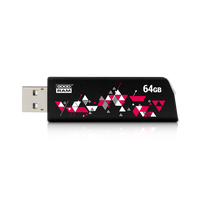 Using GOODRAM UCL3 you can forget about your lost pendrive cap. The pendrive is characterized by a unique opening mechanism – one click is enough to move out the USB connector. Although the housing has a simple, traditional shape, it is original thanks to a characteristic colourful design. The speed USB 3.0 offers high efficiency and reliability.
Just one click to go
GOODRAM UCL3 is a classic pendrive, which stands out with its original opening /closing mechanism. Just one click is enough to move out the USB connector. A special lock guarantees safe use of the flash drive in the computer.
---
High efficiency thanks to USB 3.0
GOODRAM UCL3 is equipped with a modern USB 3.0 interface ensuring considerable speed gains as compared to previous solutions. Thanks to great transfers you'll have more time being able to copy your data much faster. You can use GOODRAM UCL3 both in devices equipped with USB 3.0 and older versions of USB. UCL3 is backward compatible with USB 2.0 standard, but only devices compatible with USB 3.0 will let you enjoy very fast transfers.
---
Always at hand
Thanks to its traditional housing, GOODRAM UCL3 is popular among practical persons. A well-thought-out design of GOODRAM UCL3 allows to attach the pendrive easily to a key leash, which makes it available any time. Lack of cap and unique opening system cause that even the most absent-minded users will enjoy GOODRAM UCL3 for a long time.
---
Lifetime warranty
Production of GOODRAM UCL3 involves only the best components, and, over the entire production process, memory undergoes multi-stage tests and very strict quality control. Thanks to the above, alike other GOODRAM brand products, UCL3 is covered by lifetime guarantee of the producer.