---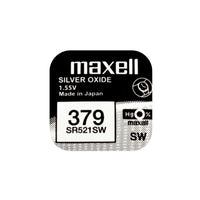 SR521SW (379) 10 Pcs
18293000
Packed in 1 piece blister.
Box of 10 watch batteries.
Mercury free.
Low drain.
Suitable for watches without backlight and/or alarm.
Made in Japan.
Also referred to as 379.
Maxell is the worlds leading manufacturer of Mercury free environmentally friendly watch cells. Silver Oxide cells are the primary long life cells used in quartz wrist watches, where high-energy density per unit volume abd a stable operating voltage are required. To mark the distinction between the Mercury Free Silver Oxide batteries and standard Silver Oxide batteries, Maxell have stamped the Mercury Free variant with a Hg 0% design registered logo. Please dispose of used batteries in a responsible manner. Keep out of reach of small children. Maxell Europe is a member of the REPIC eBATT Compliance scheme and the Battery Producer Registration Number is BPRN00322, provided to us by the Environment Agency (EA).